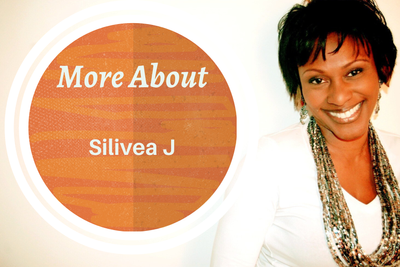 Meet Vocalist Silivea Johnson
Silivea Johnson is an exceptionally talented female pioneer and vocalist who is also a multifaceted Recording Artist, Producer, Musician, Songwriter, Musical Engineer, and Radio Syndication Show Host / Producer. She creates heartfelt music with messages of simplicity and hope.

In the year 2000, Silivea launched her debut album, entitled, " I Give Him Praise". Although her primary genre is Faith Based Music, she is an extraordinary jazz vocalist who has opened for artists such as Patti LaBelle, and Dionne Warwick just to name a few.

Early in her professional career, as a lead vocalist recorded and toured with Billboard Award winning Jazz Trumpeter Tom Browne, and was featured throughout on Browne's "Mo' Jamaica Funk" Album in 1993 under her maiden name Silivea Robinson. As a live performer with Browne, Silivea graced various world renown jazz venues such as "Blues Alley", (Georgetown) , as well as "Sound Of Brazil" (SOB's), and "The Blue Note" in New York City. She also performed live on the 90's popular musical series by Black Entertainment Television Network called BET's Jazz Central, hosted by the late Lou Rawls. Silivea has also performed live in Harlem, N.Y. on Urban Radio's WBLS F.M. for the quiet storm live series.

In 2008, Silivea Johnson launched a record label, "Out Of Bondage Music & Productions", that produced products for television and radio. She developed the "Living Out Of Bondage TV Show", that later gave birth to her very own radio syndication called the "Out Of Bondage Music Radio Syndication Show". The current broadcast is a three hour show airing once a week nationally in three USA cities, on both traditional and internet radio stations. She is best known by her listeners as "Silivea J". In a blend of both genres of Faith Music and Jazz, she launched the " Jazz In The Spirit" series in 2011 as a live supper style worship experience. "Silivea J" continues the musical series through live music tours and events often times joining other jazz ensembles as guest vocalist.

Whether on the air, behind the piano, soundboard console, or microphone Silivea uses her platform to bridge generational gaps through music. Her repertoire and vocal texture is unique and unlimited.
Your audience will enjoy any live performance experience featuring Silivea Johnson.